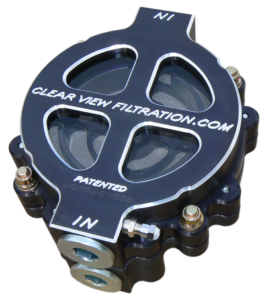 Billet connection is a cnc machine shop owned and operated by Mike Cofini and Jessica Juel. We specialize in machining billet aluminum Racing and Hi Performance Parts. Our experience comes from 30 years of Mike Cofini owning and running an engine machine shop which built stock, performance and racing engines for all kinds of applications and all different types of motorsports. Mike and Jessica have been in drag racing for just as long. Running many different classes including Top Alcohol Dragster. Over these years Cofini rebuilt hundreds of engines for customers and fellow racers that caused excessive damage to their engine or blew it up! Because it was not easy to know when parts in the engine were excessively wearing or failing.
In Racing, Hi Performance, Industrial or any Application that engines cost a lot of money being able to inspect the filter element and filtered particles will visibly show a problem in the engine even if it does not act or have any signs of a problem.
Our Patented See Through Filter Assemblies allow quick and easy visual inspection of engine particles in seconds without leaking or draining oil, unbolting or loosening any fasteners or fittings and with out loss of any oil out of the system. Even when filtering non transparent fluids like dirty engine oil. See Through Oil Filter Assemblies are the Future of Fluid Filtration, its like having an insurance policy for your engine.
We are a small company looking for new ways to introducing our products into markets we have not reached yet. We are also open to thoughts and suggestions on business opportunities and ways to better market our products. Even open to licensing or selling our Patents. We also have an easy dealer program available. Feel free to call us with any opportunities! 
Billet Connection & Clear View Filtration
Phone Number: 509-467-7584
E-Mail Us At: [email protected]